2022
World Values Day 2022 Activity
'Love in the Home and 'Peace in the World'

'Love in the Home and 'Peace in the World' were the top value choices for 223 families at the Kuwait American School during a 'Shoe Box/ Tissue Box' activity for World Values Day. The theme: 'Every Brick Counts' represented each family value contribution to be placed on a 'Wall of Values' for all to see.
How was this achieved?
The Celebration of Community Values began with each child being invited to find an old tissue box or shoe box and cover it with paper. After the boxes were painted in school during the Art class, the boxes went home for families to consider answers to 3 important questions:
1. What value is most important at home?
2. What does that value mean to you?
3. How can you show that value in a practical way?
After much sharing, often with extended families, the top value was written on top of the box, 'what it means to them' written on one side, and 'how to practically show it' written and/or illustrated on the remaining 3 sides. Finally, the boxes were decorated and brought to school where every child confidently and excitedly spoke about their box, their values and their choices.
The boxes, adorned with many values and forms of expression, were then placed on 'The Wall of Values' for all to see silently adding individual voices to what makes each one of us valuable, unique, worthy and full of innate universal values.
The Wall of Values
Parents gathered to see their 'brick' with their child and the children brought their parents to the wall, too! These were heart-felt moments where everyone's voice was heard, vision appreciated and understood.
The top 6 family values are: Love – 88, Joy/Happiness – 30, Respect – 27 followed by Peace, Honesty and Kindness.
The jewels of values expressed both individually and collectively eloquently reached the hearts of us all with two key findings:
1. We care about values in our lives as a foundation to all that we think, say and do.

2. We discovered that these values are our values with the priority of values meaning different things to different people over time.
Assembly Celebration

The highlight of World Values Day was our Courtyard Assembly where one student elected representative from each KG1 to Grade 8 class shared their tissue/ shoebox values to include love, kindness, happiness, courage, freedom, respect and peace - what it meant to them, their family and community. Our Middle and High School students beautifully expressed their views on hope, humility, peace, humanity, integrity and honesty. During the day, our Grade 11 students collaborated in Language Arts and Social Studies to produce an excellent performance, for Middle and High School students, related to Slavery. The responses from the audience reflected a clear chord in us all –
'Learn from mistakes of the past,
move on and live your noblest values
by choosing to live in your values'.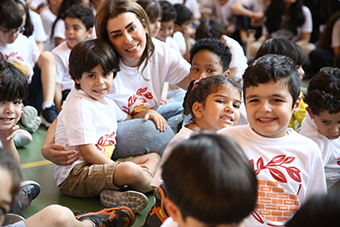 All the students and staff wore especially printed white tee-shirts for the day and joined the senior staff who sang a newly created values song, adapted from 'I feel it in my fingers, I feel it in my toes' that celebrated the values that we all hold deep inside and grow when we give them away.
The Tree of Values
In addition to the Tissue/ Shoe Box activity, parents were invited to answer one key question:
'What value does the world need now?'
212 responses were written by parents and senior students on apple shaped stick notes and added to the Tree of Values. In total, for both activities, 97 values were referenced from 496 responses.
The top 6 Parent/Senior School responses for 'What the World needs now' were Peace – 50, Love- 38, Respect – 31 followed by Kindness, Joy/ Happiness and Honesty.
The Next Steps
The whole occasion is still gathering momentum with an exhibition of the student's boxes being prepared at a local shopping mall with a 'new Tree of Values' awaiting for the wider community to add apples to the tree.
In Kuwait, the government's top agenda item, at the time of writing, is to nurture' virtuous values' to strengthen unity and community. We can each play our part, with one thing for sure - with thanks to Living Values Education - the sense of KAS family continues to grow stronger and stronger with every student simply being the best version of themselves in both character and learning.
And worldwide – a thought – if we can replicate these findings across the globe in all cultures – what are families and parents seeking?
'Love in the Home' and 'Peace in the World'.
International Week
Sunny greetings! We've just had an amazing International Week out here with a values-based Climate Change twist for the whole school. The event was essentially student led using LV materials and their own research. Community speakers came from local environmental groups, an oil company, and UNHCR. It was great for the students especially now that the school is getting back to normal... whatever that may be!
Addressing Climate Change through a values-based solutions approach
The students at the K-12 Living Values Based Kuwait American School brought their own solutions to climate change that affect us all by addressing a range of issues though teamwork, support from experts in the community, using the Living Values materials and in depth research with mountains of enthusiasm, passion, commitment and a student council led action plan.
Save Our Oceans
The KG students focused on the Oceans and what we can do practically to play our part. Their guest speaker from the 'Ocean Minded' youth initiative shared a story on Planet Earth, with the help of two able puppets who asked the students what we can do. The photo shows how their corridor was transformed into an ocean. The Living Values 3-7 materials on Caring for Our Oceans proved so valuable to help focus young minds and nurture responses.
KG1 Students and their Ocean Display
One Recommendation from the KG students to help Save the Earth:
'Show you care. Don't throw rubbish.'
The Elementary students received a passport to visit each of the 10 classrooms where climate change issues were simply identified together with simple student generated solutions that we can all do to play our part. As you entered the room, the door was decorated with an issue and a solution tree as illustrated with the Grade 4 class on Amazon De-afforestation.
Grade 4 Door Amazon Tree
For example: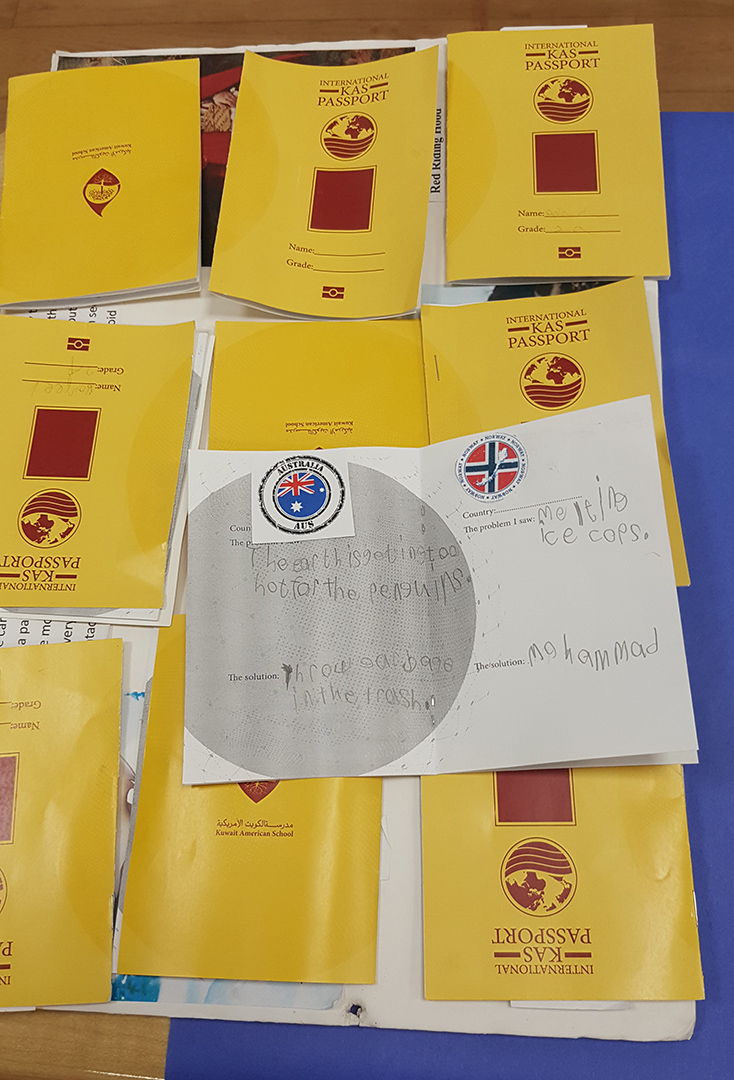 The younger Elementary students focused on animals and plants with, for example, the issues facing penguins. Solution: stop dropping trash that pollutes our waters. Why? What we do here in Kuwait affects penguins! So….save penguins..
One Recommendation from the younger Elementary students to help Save the Earth:
'Show Respect. Show Responsibility. Stop polluting water.'
The older Elementary students also received a presentation from Ocean Minded into the issues that affect us all including a significant focus on our carbon footprint and how to reduce it. A particular insight was the beginning of adding carbon footprint data onto restaurant menu choices to inform the customer of the carbon footprint data. The shift to less high carbon footprint meals towards more low carbon footprint vegetarian choices has become an informed option. KAS is a vegetarian school.
Amazon Natural Nature v's Human Impact
Amongst other issues addressed with solutions generated by the students in a personal, collective and practical way included: the consequences and solutions to de-forestation, soil erosion, the emergence of global forest fires, the increase in desert land mass, rising temperatures, and the effect of pesticides on our planet and ourselves.
(Note: Temperatures in Kuwait regularly exceed 50c in summer. In 2021, the maximum recorded desert temperature was 67c. – BBC documentary 'Life above 50'.
One Recommendation from the older Elementary students to help Save the Earth:
'Think of Mother Nature and your impact on it before you choose what to do.'
The Senior School students deep dived into their own chosen issues with easy to understand research information illustrated with practical solutions expressed through displays and dialogue to all their peers.
The issues addressed included: the pros and cons of nuclear energy, the sinking of lands creating flooding, the rising of ocean water levels placing islands at risk of submerging, the loss of coral reefs, the melting of glaciers, food security, electric cars, solar panels, the effect of wars on food security and pollution, planting trees, smart houses, carbon footprints and national, cultural and ocean life.
Solutions included raising awareness, being the example, making ethical choices, working together, supporting each other, planning together across cultures, making commitments, sticking to them and having the 'willpower' to make a difference.
One Recommendation from the Senior School Students to help Save the Earth:
'Be Ethical. Be Leaders by Example.'
Living as a Fish – a visual and tactile experience
One particular visual and tactile experience was 'What would it be like to live as a fish?' The classroom floor was colored blue. As you entered the room, fine strands of paper were hung from the ceiling catching your head.
The question as you walked in the room:
'What would it feel like to be a fish swimming in these waters?'
A little further, empty plastic bottles were hung from the ceiling to head height. Then the question:
'What would it feel like to be a fish swimming these waters full of plastic bottles?'
And finally, the last question as you walk through the bottles:
'Would you swim in these waters?'
The message was simple:
'Don't drop litter, don't pollute the oceans, value and care for your environment, value and respect the homes and habitats of others.'
Many models adorned the student displays with many simply showing a before and after scenario.
For example:
• The effect of petrol fumes on the environment v's electric cars.
• The tidiness inside your house v's the untidiness outside your house.
• Land and lifestyle before flooding v's land and lifestyle after flooding.
The Role of UNHCR
Representatives on the United Nations High Commission for Refugees provided an exhibition and informed the students that climate migration is an issue with one person per second, on average, being displaced due to weather. All the students were invited to write what they would like refugees to receive on a giving tree.
UNHCR Tree of Wishes
Love, Hope, Commitment and Good News
We can each play our part with love and respect.
Living Values – LVRUS and the importance of living in your values – resonated with everyone. Ocean Minded's simple slogan: 'Love, Respect and Protect' added to the heart of everyone. A guest speaker from the Kuwait Petroleum Corporation give a heart-felt talk with the Middle School students on how the oil industry is cleaning the way it processes waste.
• Did you know that excess gas is only released when cleaned?
• Did you know that excess gas is recycled by pressuring it back into the ground to pump the oil upwards?

Guests from the community 'Green Hands Environmental Team' illustrated the great strides that Kuwait has made to 'green' the country with conservation areas and nature reserves, amongst many other initiatives.
One Day was dedicated to 'Carbon Footprint Day' where events included bringing unwanted items to re-use and donate to good causes.
What values emerged during the 4 day 'in depth' dive that culminated in the myriad of student presentations?
With the support of excellent materials from the Living Values Education books, the key words included:
Care, Love, Awareness, Consideration, Respect, Protect, Cooperation, Simplicity, Teamwork, Commitment, Listening, Creativity, Hope and Vision to mention a few.
The Value of Simplicity
Perhaps the most effective value was simplicity – something easily understandable with a simple message and simple solution to which we can all play our part?
One key message from the students and staff:
'Aim for Simple Living, Honest Thinking and Living in Your Values'
School Wide Commitment
In support of UNESCO's Sustainable Goals, the program ended, as it began, with the Student Council and Senior Students who were the driving force and ambassadors for the Climate Change week.
The suggested solutions from the Living Values Education Young Adults book pages 281 to 282 generated much discussion, not only with a heart-felt personal commitment, but with a class by class vote of which one, or more than one commitment, the school will adopt.
Individual and Personal Actions included:
Use less water. Don't buy unnecessary things. Avoid single use plastics.
Adopt a Reuse, Reduce and Recycle mindset.
Choose one thing to do.
At the time of writing, whole school commitment front runners are:
'Creating green areas for planting' and 'Promoting diets with a low carbon footprint'
The week was full of passion, learning, sharing, awareness, gratitude and creativity. Together, we appreciated that can each make a difference through values-based solution approaches with optimism, commitment and youthful enterprise.
Save the Environment
Addressing Climate Change through a values-based solutions approaches is something for us all.