March 2020
In December 2018, The President of Zimbabwe, E.D. Mnangagwa, started the National Environment Cleaning Campaign with a dream to turn Zimbabwe into one of the cleanest countries in the world.

Early in March 2020, the article appeared in local press "National clean-up campaign: Going beyond the broom". The article stated that one of the many ways of tackling the litter challenge is to develop a greater sense of civic pride among citizens. The clean-up campaign has raised awareness about the scale of the litter problem and has forced people to think about changing their behaviour. Many schools have supported the Campaign and have reflected the initiative in their Art lessons.


December 2018 - March 2020
Living Values through Art

Inspired by "Living Green Values", primary and secondary school children at the Dominican Convent School in Harare, Zimbabwe, expressed through their artwork the awareness of the importance of taking care of Zimbabwe, the Earth and their resources.

The first category: "I take care of my world" - depicted their love for nature and concern for clean environment.

"Let's pick up the trash" by Grade 2
"Clean and Green" by Grade 2
Take care of my World by Grade 5
Land and Gardens by Grades 3 & 4
A Healthy and Beautiful Planet by Grades 3 & 4
Expressing Values in Art: The second category (for grades 6-8) focused on self-development.

Looking through Blinds of Lace Curtains
African Women
We Are One!
Purity and Peace
Welcome to Zimbabwe
African
Me!
Obstructed Emotion
Freedom
2019
LVE School Assembly, Harare: 19 March 2019

Living Values Education is a part of school assemblies and it blends perfectly well with the school Catholic ethos. A group of Upper 6 students have prepared presentation, posters and value-cards for one of the assemblies. LVE team spoke about 12 universal values and about the importance of sharing values for a better world. Power point presentations, songs and poems have become a part of the presentation. Exploring and developing universal values for a better world"¦ Peace, Respect, Love, Happiness, Freedom, Honesty, Humility, Tolerance, Cooperation, Responsibility, Simplicity, Unity. These assemblies are ongoing.
The feedback after the Values Assembly:
I saw the description of the card "COMMITMENT" on the status of one of my friends. It seems that many people have really liked the cards and were inspired by them! Thank you so much for taking the time to do this. I am sure it was much appreciated by a lot of people.
Thank you for yesterday's assembly. I've picked the value, which is me - "CONSIDERATION". It's amazing. I consider myself to be a considering person.
Thank you for the beautiful assembly and for checking up on me after the lesson... it really meant a lot to me.
Thanks for beautiful cards. They have made a great impact on me and my classmates. We were showing each other our descriptions - sharing our values. We need more assemblies like that.
Are you worthy of GOD'S LOVE?
The Father has loved me, so haveI loved you. Abide in my love. If you keep my commandments, you will abide in my love, just as I have kept my Father's commandments and abide in his love.
John 15:9-17
Know therefore that the LORD your God is God, the faithful God who keeps covenant and steadfast love with those who love him and keep his commandments.
Deuteronomy 7:9
Living Values for Mental Health: Understanding, Respect, Unity and Peace.


Maleeha Nawaz, a teacher from Pakistan, who ended up in Zimbabwe through marriage, describes her 10th year of teaching at a high school.
Maleeha Nawaz
Nawaz writes: "Year 2019 had made a tremendous impact on my teaching career. I noticed that most children were frequently anxious, stressed and depressed. Being someone who understands stress and how damaging it can be, I have always encouraged candid and heartfelt discussions in my lessons so it was easier for me to pick up on the issues that affected them. Every time I entered the classroom, I felt what they felt. I felt their pain, I felt the oppressive energy in the classroom and I knew they were hurting. Frequently, we forget what younger people go through and disregard their thoughts and ideas because we think we know better.

"I wish it was as simple as asking what was bothering them, what was heavy on their heart, what was hurting them. I knew that they had problems that needed solving but how would I help them? I desperately wanted to share their pain and see them thrive.

"The idea came up to create a wholesome environment somewhere away from school. Let them try something different but fun, something that pushes them but also gives them peace...

"...It was a crisp, bright beautiful morning on 27 November 2019, when we arrived at Raintree School Camp. My friend Carmen, a yoga instructor and health coach, led us into a session of yoga. I looked at the bemused, apprehensive faces of my students who hadn't tried yoga before. Through breathing, they were showing respect for the postures. Inhaling and exhaling tension, they were calm and connected. Then they were asked to lay their heads on someone else's tummy and form a conduit in order to transfer positive energy through contact. What I saw was transforming. "Gone were the strained expressions and fear that often clouded some of their faces. Giggling, laughing and chuckling without restrain. It was beautiful.

"Next, we formed a circle and sat on the lush grass, asking them to contemplate and ponder at which point in their lives they were. Questions were asked and they answered from the heart. I told them they were special, important and unique. I sensed understanding, respect and peace creep on their vulnerable faces. They were absorbing and internalizing. We all had our battles but we were one. United. We were human.

"After lunch we had a surprise in store. Secret Sunshine. Connection through guided dance and movement. Everyone was given headsets and then it began. We were soaring, flying, dancing the best way we could. Free from judgement. Connected. We were one. What I saw made my heart so full. Inexplicable joy and nothing else. I felt I was seeing different children that day, children who only knew joy and excitement.

"I have never been so moved when they shared their experiences with me. For the first time in a long time they felt happiness. One of them said that day when she went home she was locked out of her house but just remained calm and happy and didn't care about her distressing situation. Another shared she dissolved into tears when she went home that day but tears of relief, comfort and gratitude. Most of them said they slept well for the first time in years without waking up several times in the night.

"...Peace and joy. I am so grateful for the trust they have put in me and I am honoured to be their teacher."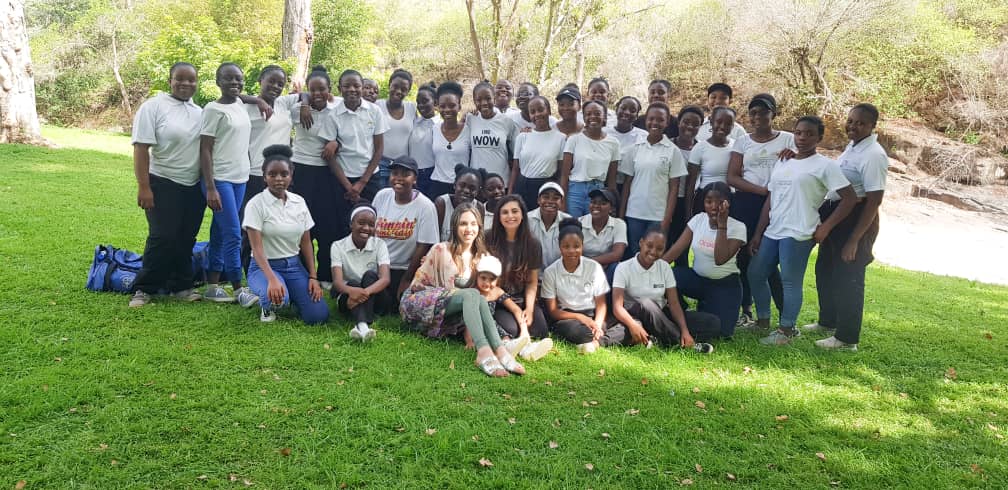 Raintree School Camp team
Meditation experience
2017
Inspirational teaching: Classroom management through LVE


As the schools in Harare, Zimbabwe closed for Christmas holidays in December 2016, the teachers headed to one of the most popular workshops "Inspirational Teaching: Classroom Management through Living Values". Many veteran teachers shared their experiences, skills and methods with younger, not so fully-fledged teacher.

Fruitful discussions were held on the following issues:
Identify most frequent disciplinary problems
Share most effective strategies in managing classroom
Share experiences with progressive discipline, where values-based approach succeeded in improving behaviour and attitudes of the students, and they turned to be well-behaved in the end
Many teachers indicated that good behaviour has to be acknowledged and complimented. Some schools offer house points or merits, even if the mark is below standard, to encourage positive performance. It is essential not only to make a student understand what he/she has done wrong, but also understand the students and why they have done something wrong. Teachers should never stop to be role models and they themselves should demonstrate the behaviour they expect from the students.

Effective ways of behaviour modification proved to be:
talking to students one-on-one with respect
putting students in leadership positions
reinforcing positive behaviour
constant reminder of the school rules
Some teachers specified the importance of working with parents, as many schools have limited opportunity to do that. Traditionally, schools in Zimbabwe offer only one parents' consultation day per year to discuss the students' academic achievements. Some students come from poor background or broken families, so cultural ethics allowing, careful research should be done on how families contribute to behavioural problems in students. Perhaps, LVE Effective Parenting Workshop or LVE Parenting Classes can be a solution.

Overall, both experiences and young teachers benefited from the workshop and found many ideas applicable in their classroom practices. All the teachers are determined to make their students feel loved, valued, respected, understood and safe.
How to eliminate disciplinary problems at an early stage
Effective classroom strategies
Progressive discipline
Problems and strategies
Listening carefully
Working with parents
2016
Zimbabwe: 25 May Movement


The 25 May Movement is a campaign that started early this year, inspired by the growing negativity and hopelessness of Africans, and more specifically, Zimbabweans. It was the brainchild of a seventeen-year old Tanatsei Gambura, one of the contributing artists in the poetry anthology "Fresh Ink", who saw the need to highlight just a few of the things that make being African such a fulfilling gift.  The idea is to remind people that although things are tough, and for many Africans even waking up is a struggle, things won't change until our mindset changes. There is more to being African than the western stereotypes and overrated names. There is more to being African than what we are told.



The movement is the effort of fifteen girls who are planning on sharing a smile and a few words with fellow Africans in Harare in order to change outlooks and mindsets. The group is also set to release a spoken word video on Africa Day of a thought-provoking poem entitled "We Are Africans", written by Tanatsei and filmed by One Point Eight Pictures. In collaboration with Star FM, the team is set to share a message about Africa throughout the week on radio.



The movement is planned to spread to social media, with the hashtag #25maymovement and pictures of the girl's outdoor campaign. Catch the movement, join the campaign and celebrate Africa!

Natasha Ncube
Focal Point for LVE in Zimbabwe
2014
Workshops To Help Grade Seven Students Transition to Secondary School
Natasha Ncube, the Focal Point for LVE in Zimbabwe, has been kept very busy with a series of workshops for grade 7 pupils in several primary schools in Harare between December 2013 and April 2014. She was asked to conduct the workshops by the school's Parent Committees as parents wanted their children to have a smooth, positive and successful transition from primary to secondary school. 

The system of education in Zimbabwe consists of 7 years of primary school and 6 years of secondary school. From grade 7, the children transfer to form 1 of secondary school. This transition is a major change in any child's life. Children are faced with a number of changes: unfamiliar people, places, subjects, situations, areas, routines, but the most traumatic one - from being the oldest in primary school to being the youngest in the secondary! Children also fear bullying and peer pressure.

It is a duty of every parent to find a school suitable for child's needs. Open days and visits to schools are organised during which parents and children do not only inspect facilities and resources available but also have a feel of the prevailing atmosphere at the school. It is a proven fact that a Zimbabwean parent will choose a school where children are happy, polite and respectful, classrooms are safe and teachers are role models.

The key values of the workshops were Unity, Tolerance and Simplicity. The participants were encouraged to have positive expectations and make positive choices. The participatory and experiential workshops included questionnaires, quizzes, group work and drama skits. At the end of every workshop the children were asked to reflect on what they had learnt, experienced and felt. Further information on LVE was also made available for parents. Below are summaries of some of the workshops.

In the workshop "Who am I and what are my values?" participants performed a self-evaluation exercise, discussed their strong values and the values they needed to recognise in themselves and others.
In the "Successful Transition from Primary to Secondary School" workshop, participants discussed their concerns, fears and worries, as well as expectations. The concept, "How to create a values-based atmosphere in a classroom", was presented and discussed.

In the "Peer Pressure" workshop, participants discovered that not all peer pressure is negative and that it is possible to choose friends who make positive impact on them and their personal development. 

In the "Bullying" workshop, participants discussed a key to help children avoid bullying, that is, developing a strong sense of self, standing up for what is right and resolving conflicts peacefully.
After a successful series of workshops and positive evaluations from parents, it was decided to make these LVE workshops for Grade 7 students an annual event.


A 12-year old Headgirl Shares Her Experience and Values
"Everybody looks up to a leader at one point in their lives. Whether the leader is for a game, a group or a company, it is important that the leader knows how to manage the task, lead by example and bring his team to victory. I am a 12-year-old Zimbabwean girl and in February 2014, I was privileged to be chosen as the headgirl of Dominical Convent Primary School in Harare, Zimbabwe. I felt very proud and excited, but I must say, it has been a challenging task: assign duties to prefects, attend lessons and participate in activities and functions - stress more than enough to drive anyone crazy. BUT"¦ I have many things to keep me going - and they are "¦ MY VALUES!

Values keep and guide me through tough times. My favourite values are kindness, consideration, truthfulness, fairness, humility and spirituality. At times, I absolutely don't know what to do, what decision to take, so I think what value can I apply to the situation that can influence my actions as a headgirl.

At the same time, when one is given an authority to lead the school, there is much respect given to her by the juniors. This is the situation that teaches me to be humble, caring and sweet to everyone. I do not take credit for the work that my team of prefects does. They work tirelessly to keep our school in balance.
As I continue my journey through headgirlship, I thank God for blessing me with VALUES!"
2013
LVE IN ZIMBABWE - OUR STATEMENT
The development of LVE in Zimbabwe should not bar non-academic aspects. It should be established in view of improving academic results through modification of behaviour of pupils and teachers in Zimbabwean schools and promoting Zimbabwean Cultural Values. The role of a teacher in Zimbabwe is very important, therefore, it is important as well, to start LVE with teachers. LVE should help Zimbabwean teachers to be self-empowered, more effective, appreciate their own values, become content, discover personal inner depths, teach by example and become role models for pupils, parents and society at large.
THE VALUE MEANING OF ZIMBABWEAN TRADITIONAL SHONA SCULPTURE
African people have freedom and the right to not be oppressed. Ubunthu of South Africa, Umunthu and Unhu of Zimbabwe represent indigenous values and humanity of the human spirit, which are: extended family, love, warmth, support, dependence, sharing, tolerance, togetherness, responsibility, generations, respect for elders, hospitality, cooperation, understanding and friendship. Slavery, colonisation and the struggle to overcome them were part of the African way of life. The sculpture shows the relatedness of Africa in a global context: solidarity, unity, freedom, trust between individuals, cultures and continents.
LOVE
MOTHER'S LOVE
FAMILY LOVE
SOLIDARITY
SYMPATHY
ALIVE in Zimbabwe offers professional advice, life skills coaching, personal development seminars, training and workshops on Living Values Education for teachers, educators, university students, parents and school children. Seminars, training and workshop are designed to provide experiential and participatory approach and encourage the participants to take part in discussions, negotiations and debates, making meaningful contributions by sharing their valuable experience in personal development, interaction with the members of the community and work with children.
ALIVE also provides classroom materials and educational resources for trainers and workshop participants. Some of the courses include:
Building Confidence
Classroom Management
Consequences of Choices
Dealing With Conflict
Discipline at Schools
Effective Communication and Active Listening
Inspirational Teaching
Junior Leadership
MUN (Model United Nations) Coaching
Personal Values and Goal Setting
Rediscovering the Art of Living Together in Harmony
Understanding Forgiveness
HIGHLIGHTS OF 2012 EVENTS:
JANUARY/FEBRUARY 2012:  3-WEEK WORKSHOP WITH UNISA STUDENTS ON INSPIRATIONAL TEACHING.
"What the teacher is, is more important than what he teaches."
Who is a teacher? (Rekindling teacher's profession)
My Teaching Styles and Strategy Of Teaching
Philosophy of Teaching
Expected Personal Standards
Personal Values
IMPACT: "It is better to allow our lives to speak for us than our words." Mahatma Gandhi.  By a participant of Living Values Education Workshop, UNISA student, Dominique Glen-Williamson
Gandhi's expression is a well known saying that the vast majority of people agree with and reiterate in their writings or advices to others. This saying is applicable in all fields of life but particular in the fields that involve people and the instruction of them. As a teacher, our lives must speak to our students rather than allowing the very hypocritical tendency of "do what I say but not what I do" to creep into our lives...
IMPACT: "It is better to allow our lives to speak for us than our words." Mahatma Gandhi.  By a participant of Living Values Education Workshop, UNISA student, Itai Gurira
People often claim to believe certain things only to have their lives contradict them. As everyone can agree it is often easier to say than to be that which we say we believe. The challenge is not to say what one believes but show it through how they live their lives. This is something I hope people who look back at my life in years to come, will acknowledge, that Itai lived his life to the fullest and remained true to himself.
So if my life was a message what would it be? ... read more ... It is better to allow...
MARCH 2012: HOW TO INTEGRATE LV INTO ICT ACTIVITIES. ICT WORKSHOP FOR 65 EDUCATORS AT GATEWAY PRIMARY SCHOOL
IMPACT
It is important within a Christian School context to be identifying the areas that we now need to make use of Living Values in ICT. The fundamental purpose of the integration of ICT in the curriculum is not merely to develop students' ICT skills as desirable vocational attributes or necessary communication tools. Within the mission of the School, the ICT goal is to assist the students to become better thinkers, better writers, better readers - for the glory of God and the service in the community where they live and work.
Facilitated workshops for UNISA students on Discipline at Schools and Classroom Management
Facilitated workshops for teachers from various Zimbabwean schools on Inspirational Teaching, Living Values Education, Disruptive Behaviour, Lesson Planning and Presentation Skills
STARTED IN MARCH 2012: COACHING HIGH SCHOOL STUDENTS FOR MUN (MODEL UNITED NATIONS)
(MUN is a popular club in Zimbabwean schools, an academic simulation of the United Nations, that aims to educate the students about international relations and the UN diplomacy. The participants role-play as diplomats representing a country or NGO in a simulated session of the UN)
ALIVE in Zimbabwe offers coaching to high school students involved in MUN activities in order to prepare them for meaningful dialogue with young members of international community in Global Young Leaders Conferences (GYLC) and other affiliated MUN Conferences as THIMUN, DIAMUN and JOMUN , help them to develop concern and deep insight into various global issues, especially human rights, climate change, world peace and the problems of youth. MUN students become aware of the causes of conflict between nations and how to lead them to a better understanding of the interests and motivation of others, how to find solutions to these problems and effective responses to the needs of the people worldwide. MUN students are taught how to participate in international conferences, discussions, negotiations and debates in a dignified way and share the virtues of integrity, respect, understanding, compassion with the students from other countries, and at the same time, represent their own country and culture with pride and humility.
FEBRUARY 2012: INSPIRATIONAL TEACHING: DISCIPLINE AT SCHOOLS - CREATING VALUES-BASED ATMESPHERE. GROUP DISCUSSIONS:
The participants discussed their schools' discipline policy and identified the discipline problems they deal with most often. Then they shared positive experiences where LVE succeeded in improving behaviour or performance and the pupil turned out to be well behaved in the end. Types of punishment and the role of parents in solving disciplinary problems were discussed.
Inspirational Teaching: Creating Values-Based Atmosphere
JULY 2012: LIVING GREEN VALUES INTRODUCED TO SOME PRIMARY SCHOOLS IN HARARE

SEPTEMBER-DECEMBER 2012: COACHING TEACHERS FOR CICTT (CAMBRIDGE INTERNATIONAL CERTIFICATE FOR TEACHERS AND TRAINERS) ON:
Developing a New Teaching Approach
Creating Values-Based Learning and Teaching Atmosphere
Facilitating Active Learning: LVE activities
Working with Other Departments, Cooperation and Collaboration.
2009
Living Values Zimbabwe
Original painting of Zimbabwe flag
by Arundel School Student Alex Maseko